International University (SA) & Partners
We believe the future of all learning, yes, all learning, will be ONLINE in the very near future.
This will be the most productive, affordable, effective and exciting way to learn.
Of course, there will be some challenges doing it well.
And one of the biggest challenges will be to add that human, loving touch to the high technology of online learning.
And that is what we and our partners worldwide are striving to do.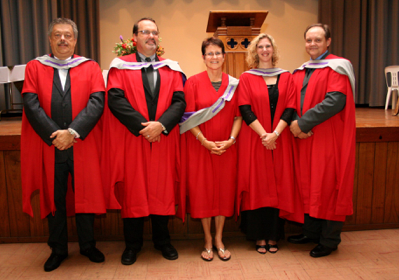 Welcome to our site
The INTERNATIONAL UNIVERSITY (SA) is only an umbrella for a group of training centres with their headquarters in South Africa, Cape Town.
With the help of Prof Godwin Booysen, the representative of DAYSPRING CHRISTIAN UNIVERSITY here in South Africa and Africa, and the Dean of DAYSPRING in the USA, it has been decided that all studies in future done via the INTERNATIONAL UNIVERSITY (SA), will be accredited and recognised by DAYSPRING CHRISTIAN UNIVERSITY. (See http://www.dayspringchristianuniversity.com/en/ )
Till 2017, this virtual university was known as New World Mission Dunamis International University (NWMD IU), till the sudden death of Prof Louis de Bruin, the previous Dean and President of NWMDIU.
It was the wish of the late Prof. De Bruin that after his death, his successor should be Prof Gerhard Kotze, with his wife, pastor Karin Kotze, as vice President. The both of them are part of AMAZING GRACE MINISTRIES and AMAZING GRACE ACADEMY in Parow, South Africa.
We all wish and pray that God will give them great wisdom and grace that they will be able to continue with Prof Louis' years of hard work and pioneering for the new season of virtual learning.
Prof Kotze decided that for the immediate future this virtual University will focus on training and empowering students that want to study Theology, Pastoral Counselling and other training that are relevant in equipping of Christian leaders for ministry in the Body/Church of Christ.
Furthermore, a consortium of South African Training Colleges and Institutes, who were all accredited by DAYSPRING CHRISTIAN UNIVERSITY in the past, joined hands on this website of ours, www.internationaluniversity.co.za 
These schools were AMAZING GRACE in Parow, SA, NEW SONG in Bothaville, SA (https://www.facebook.com/newsonglife/, and the WESTERN CAPE CAMPUS OF CONTINUAL EDUCATION (www.wkdo.co.za ), in Paarl and Wellington in SA, where Prof Piet Truter was the Head and Dean.
(It is with sadness that we need to mention that Prof Truter suddenly died in 2019 and that Campus is busy reorganizing.)
NB:  After much consideration, it was decided that from 1 January 2017,  the INTERNATIONAL UNIVERSITY (SA), and all schools in this consortium, will have nothing to do and won't take any responsibility for whatever is done under the banner of New World Mission Dunamis by a Group out of India who illegally confiscated that name.